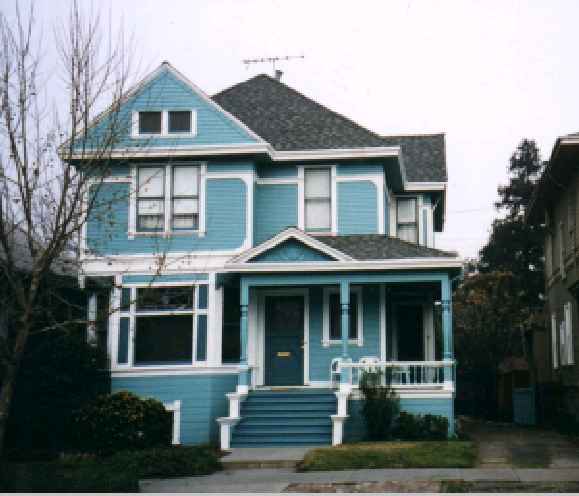 I have just purchased a great house in Downtown San Jose. It was quite a find. For those who remember, I surprised myself and everyone close to me by making an offer on a neat little victorian house in downtown Santa Clara in early February. My offer wasn't accepted, and I was very disappointed. But I started to think that maybe there was something better out there that I could find and so I started to look. Well, it took a few weeks (forever in this market!), but I found a house that is much better than that other one.


This house is more than I could have hoped for. It really is a great house in so many ways and I feel priveledged to be living in it. It is two story Queen Anne Victorian. Here is a closer picture of front of the house. On the lower floor, it has an entry way, two parlors, a dining room, a kitchen, and a full bath. The kitchen has a fabulous old Wedgewood stove complete with its original salt and pepper shakers and a plate warming flip up shelf. The dining room has tin wainscoating all around its perimiter. The parlors both have this beautiful textured picture molding of a style that I've not seen before. The front parlor is graced with a lovely stained glass window that is unfortunately in grave need of repair. The back parlor and the dining room both have fantastic mantles and fireplaces.
The second floor consists of three bedrooms ( 1, 2, 3) an enclosed porch (which is fairly bedroom like) and a bathroom with a clawfoot tub with wood trim on the lip. There is also a nice hallway connecting all the upstairs rooms.
Other neat things about the house - The hardware on the doors is original, it appears. In the kitchen, there is an opening for a mostly defunct dumb waiter. It was probably for pulling coal up from the basement. I'm going to investigate what it would take to bring that back to life. Also, the upper bathroom has an opening for a now defunct laundry chute. I really want that to be restored if I can make it so. The stairway is very impressive with nice detailed features, and also in wonderful shape
I just can't say enough about this house. I'm very excited, can you tell?
Quick and dirty look at more pictures here.
Last updated Saturday, August 26, 2000 at 2:23 PM